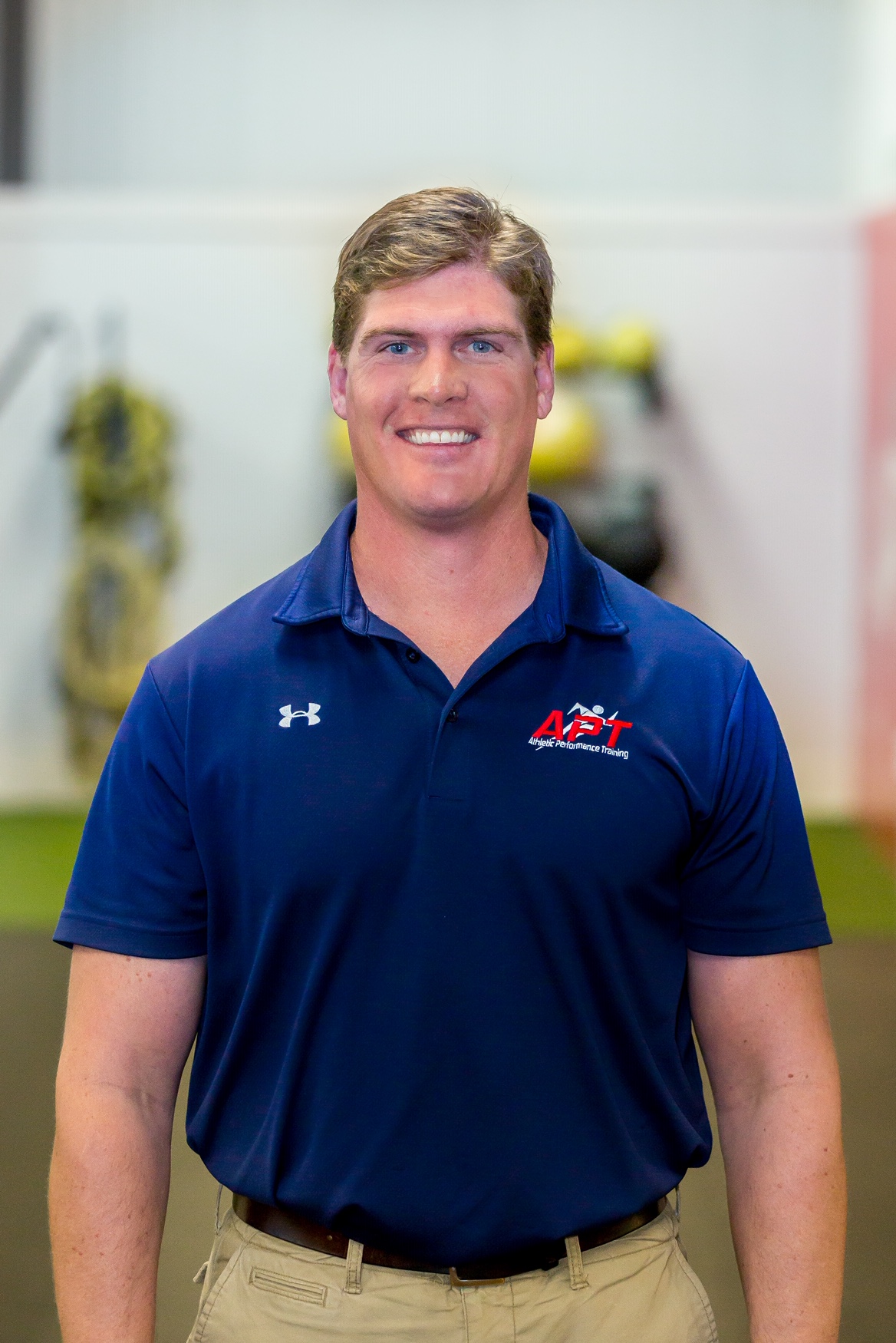 Umass Lowell PES , OPT, CES & CPT
Pete Tormey is president and founder of Athletic Performance Training, with facilities located in Falmouth and Attleboro, Ma. After a successful college and pro hockey career, Pete turned his passion for performance training into his profession. Pete developed APT to prepare athletes and adults for success in sports, academics and life. Pete enjoys drawing and spending time with his wife, Jamie, and their sons, Jake and Crosby.
wyatt lawerence – Performance Coach
Westfield State Bachelors Excercise Science
Wyatt grew up in Sexsmith, Alberta where he developed his passion for strength and conditioning while playing hockey.  After four years of junior hockey with stops in the NWJHL, AJHL, and SIJHL, he committed to Westfield State University where he played for three seasons. While at Westfield State he majored in Exercise Science, expanding his knowledge on his passion for strength and conditioning. In addition to his studies, he interned at Full Plate Strength and Conditioning, and was hired as a coach following his internship. Upon graduation he suited up for one game for the Delaware Thunder of the FPHL, getting a taste of pro hockey before being hired at APT. Wyatt enjoys hiking, cooking, and getting out on the ice as much as possible in his spare time.
chris rice – Performance Coach
Merrimack College Masters Excercise Science
Chris Rice joined our staff in the Summer of 2023. He is currently the Director of Olympics
Sports Strength & Conditioning at Stonehill College in Easton, Ma. Chris has prior experience
working with the Brandeis University, UMass Lowell and Northeastern University Strength &
conditioning departments.
Before coming to Athletic Performance Training, Chris was the Assistant Sports Performance
Director at Velocity Sports Performance in Norwood, Ma, where he acted as the Head Strength
& Conditioning Coach, Director of Programming for all athletes and adult clients, and Director
of Education. Through these roles, Chris laid the groundwork for the Sports Performance
program's speed and agility training, strength training, and conditioning protocols. He also
created the foundation for their Adult Bootcamp and Semi-Private Programming. During his
time at Velocity, Chris directed the Strength & Conditioning for several High School teams,
including Newton North High School Football, Dedham and Sharon High School Varsity
Basketball, and the Jr. Spinners Baseball program in Lowell, Ma. He has also worked with
several Olympic and Professional athletes, and was in charge of the Collegiate Athlete program
during the Summer and Winter breaks.
Chris earned his Bachelor's in Sports Medicine with a Concentration in Human Performance and
Wellness in 2014 and his Masters in Exercise and Sport Science in 2020 at Merrimack College.
Chris is Strength & Conditioning Coach Certified (SCCC) through the Collegiate Strength &
Conditioning Coaches Association (CSCCa), a Certified Strength and Conditioning Specialist
(CSCS) through the National Strength and Conditioning Association (NSCA), Reflexive
Performance Reset Level-1 certified (RPR), and CPR, AED, and Basic First Aid certified.
Sam HEAVEY – Performance Coach
Appalachian State University Masters Excercise Science
Sam grew up in Marion, MA where he attended Tabor Academy and played football, wrestling, and lacrosse. He then went on to attend West Virginia University and received his bachelor's degree in exercise science. After graduating he started personal training and became a certified strength and conditioning coach while coaching wrestling back at Tabor. He attended graduate school at Appalachian State University in Boone, NC where he interned with division one athletics and received a master's degree in exercise science with a focus in strength and conditioning. Upon returning home he worked as a strength coach at UMass Dartmouth for three years and is in his fourth year as head strength coach at New Bedford Vocational High School. In his free time Sam enjoys playing all sports especially basketball, and will take any excuse to get outdoors and paddle board or go hiking. He also avidly enjoys lobster rolls and is on a quest to find the best clam chowder in New England.
Vinny Collucci – Performance Coach
Desales University Bachelors Excercise Science
Vinny grew up on Cape Cod, MA and went to Desales University in Center Valley, PA where he received a bachelors degree in Sports and Exercise Physiology, as well as played varsity lacrosse. While at Desales, Vinny was able to work with the Strength and Conditioning staff and Athletic Training staff as an intern. Vinny also gained more experience starting at APT as an intern before becoming a full-time coach in the fall of 2022. In his free time, Vinny enjoys watching Boston Sports, as well as playing recreational basketball, ultimate frisbee and golf all over the Cape.
nolan enneguess – performance coach