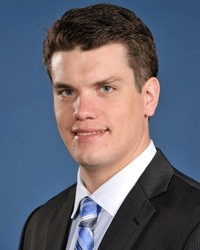 Howard Theberge: Athletic trainer
Howard comes to APT with 6 years of experience as a certified athletic trainer and strength coach, with 5 years of experience in professional and junior hockey. Howard specializes in blending his knowledge of strength and conditioning along with his medical background in order to optimize outcomes for his athletes. Howard will be partnering with APT in order to bridge the gap between return from injury back to elite level performance.
Howard currently serves as the Head Athletic Trainer for the Northeast Generals of the North American Hockey League (NAHL, USA Hockey Tier II) and has previously worked for the Adirondack Thunder (2016-2018) and the Elmira Jackals (2013-2014) of the ECHL (AA Professional). As a student, Howard served as Intern Athletic Trainer for the Portland Pirates (2011-2012) of the American Hockey League (AHL, AAA Professional).