SHOWCASING YOUR ATHLETIC ABILITY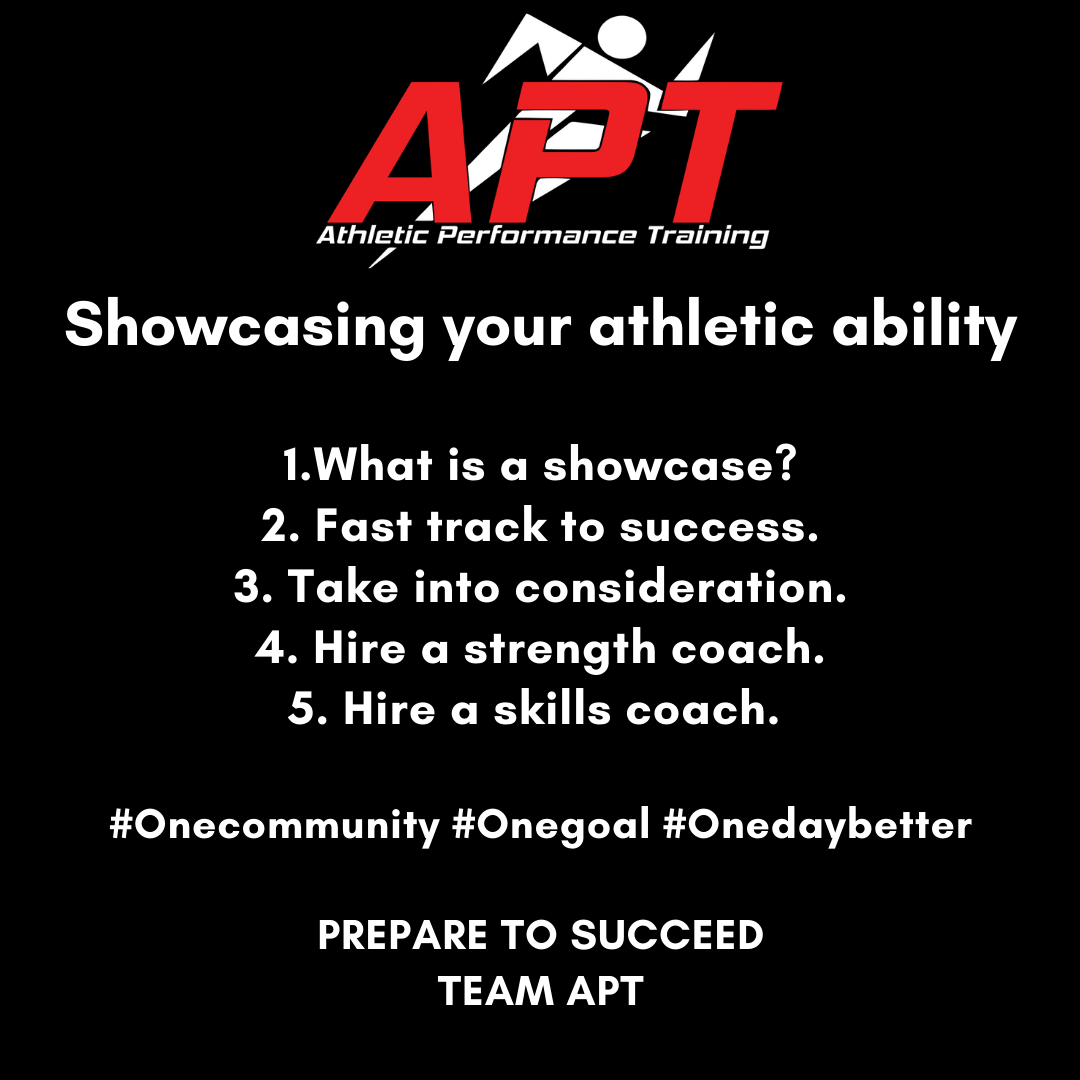 Showcasing your athletic ability
What is a Showcase?
A showcase usually lasts 3 to 4 days and is comprised of multiple games to showcase an athlete's skills in a specific sport. Usually scouts and coaches are looking for young talent to recruit for a certain sport and position.
Parents & Athletes:
It is all too often that I see parents and athletes get wrapped up in too many showcases and tournaments in the off-season and neglect preparation. As athletes get older, there are many different options to showcase athletic talent. Identifying which showcase is right for the athlete and preparing for the showcase is critical to success.
Fast Track to Success:
Sometimes when athletes and parents look for the fast track to success they forget all about the hard work and preparation that will lead to this success. Preparation builds confidence and confidence breeds success. Just like preparing for the SAT, one has to outline a calculated plan of attack. This will lead to better chances for success.
Take this into Consideration:
You are a junior in high school and you have to take the SAT. Your score will play a part in determining whether you are accepted into the school of your choice and may even win you a scholarship. Knowing this, wouldn't you take every action necessary to get the highest score possible?A lot of students will hire a tutor that is well qualified. The tutor will communicate with teachers, review PSAT scores and even perform some sort of evaluation to get a better understanding of strengths and weaknesses. He or she would probably spend 8 to 10 weeks working on your weaknesses to prepare you for the test. The same type of preparation is needed for athletes who are showcasing themselves in a specific sport.
Find a Qualified Strength Coach:
A strength coach should perform a movement and performance assessment to get a baseline measurement that can be used to pinpoint any areas that need to be improved upon. The data received during the performance assessment can be used to help set precise goals during training.
Once the movement and performance assessments are performed, the strength coach can design a training regimen to optimize an athlete's performance. The program should be comprised of phases that drive specific adaptations. The strength coach should take into consideration how much time there is leading up to the showcase. This allows the athlete to peak at the right time.
Hire a Skills Coach:
A good skills coach should be able to perform an evaluation and identify which specific skills need work. An example of this would be shooting, passing, throwing, etc. From this evaluation he or she should put together a progressive system to take the athlete's game to the next level. The skills and strength coach should work hand and hand to develop a systematic approach to optimizing performance. Alot of people are thinking, how can I pay for this? Rather than spending money on six showcases, pick two to focus on. All of the money saved from the showcases can be spent on a strength coach and skills coach. Understanding the showcase process and implementing a systematic approach will lead to a greater chance of success.